1000W Digital Amplifier Board Stereo Power Amp Board with Switching Power Supply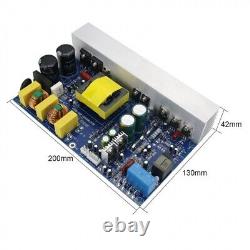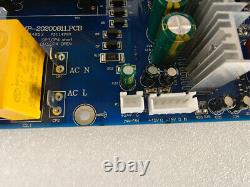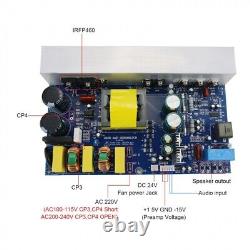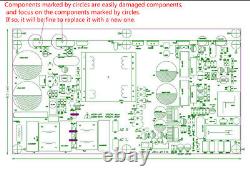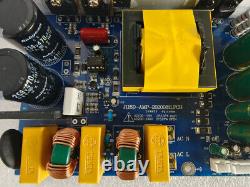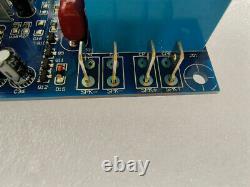 If you have any questions, please contact customer service first, do not open disputes easily, thank you! Power supply AC220V can also be set to AC110V.
Size:200 x 130 x 42mm/7.9 x 5.1 x 1.7 (LxWxH). Peak power 1000W, 4 ohm load. RMS power: 500W, 4 ohm load. RMS power: 300W, 8 ohm load. Voltage output for preamplifier+15v, 0V, -15V.
Amplifier type: Class D digital amplifier (switching power supply). RMS power: 500W, 4 Ohm load (one 4 Ohm speaker). RMS power: 300W, 8 Ohm load (one 8 Ohm speaker). RMS power: 500W, 8+8 Ohm load (two 8 Ohm speakers used in parallel). Frequency response: 20HZ-20KHZ at -2DB.
Distortion: THD =1% at 1KHZ (4 ohms). Board Size: 200 x 130 x 42mm/7.9 x 5.1 x 1.7 (LxWxH). Input working voltage: AC100-120V 60HZ, CP3 and cp4 connection.
Input working voltage: AC200-240V 50HZ, CP3 and cp4B are not connected. Input working voltage error: +/-10%. Need to add 24v fan: Yes.
Amplifier main power supply voltage: +79V, 0V, and -79V. Output voltage for preamplifier board: +15V, 0V, and -15V. Input sensitivity: Amplitude: 1.5V; Frequency: 1KHZ; Waveform: Sine wave. Signal input ports: IN (signal input) and G (signal ground).
Speaker port: SPK- and SPK+. Power port: AC INPUT L and N. The speaker has output short-circuit protection: Yes (automatic reset after removing the short circuit). Boot delay anti-shock sound 1-3 seconds. AC N and AC L: Power input AC 210-230V.
Do not exceed the supply voltage range. AC N and AC L: AC power supply input. Can be changed to 110v power supply. After modification, the 220V power supply cannot be used again.
AC100-115V working status: connect any pin of CP3 to any pin of CP4. P1 +24v and G pins are connected to 24v fan. Pay attention to the polarity of the fan, do not connect it in the opposite direction.
The fan interface cannot be short-circuited, otherwise it will cause a fault and the device to not work! Because the power of the power amplifier is large, the board needs to be dissipated when it is working. When no load, the board also needs to dissipate heat.
A heat sink needs to be installed for heat dissipation. There are many other heating elements, such as transformers, output inductors, large resistors, large capacitors, and ballast bridge stacks. These components also require fans to dissipate heat.
It is recommended that a fan blows air from the amplifier section to the power supply section. There are four output ports. Every two terminals are connected in parallel, and any terminal can be connected to speakers. SPK- and SPK+ are load outputs, connect to speakers with a load of 4 ohms to 8 ohms. Do not connect speakers with a load of less than 4 ohms.
The auxiliary power supply of the P2 socket outputs +15V/-15V at 500MA to the preamp, and cannot be used for overloading. Also, it can not connect to the input voltage. It is only output to the preamplifier board. G in of P2 socket is the signal input. Among them, G represents GND, which is also the negative pole of the signal input; in represents the positive pole of the signal input.
Please pay attention to the polarity when connecting, do not reverse the connection. When the maximum input signal is 1.5V, its output power reaches the maximum value, which cannot exceed the input 1.5V, so as not to damage the power amplifier due to overload. Input signal cable should preferably be shielded to avoid interference. Do not hot-plug the signal input.
AC power supply is high voltage and cannot be tied together with the bass wire. AC input is high-voltage power, which cannot be tied together with the signal input, auxiliary power +/-15 output, and speaker output wire. Do not tie the signal input with the speaker wire, so as not to cause high-frequency self-excitation and damage the power amplifier.
The switching power supply is charged with high voltage, so remember not to touch the high voltage part with your hands. If D12 lights up red, it means there is a short circuit in the power amplifier part. This could be because of a shorted fan, a shorted preamp, or the broken amplifier.
If the temperature of the heat sink exceeds 85°C, the power amplifier will automatically turn on the protection function and stop working. After waiting for the temperature to drop, it will start automatically. Software sales are not refundable.
This item is in the category "Sound & Vision\TV & Home Audio Parts\Amplifier Parts & Components". The seller is "cellsell2015" and is located in this country: GB. This item can be shipped to United Kingdom, Canada, Australia, Germany, France, Italy, Spain.
Brand: Unbranded
Compatible Brand: Universal
Type: Power Amplifier Board