110V-120V / 220V-240V to 12VDC 600W 50 Amp Output Power Supply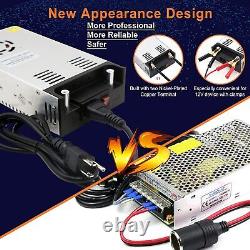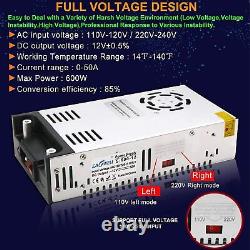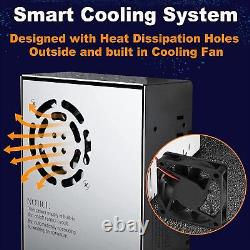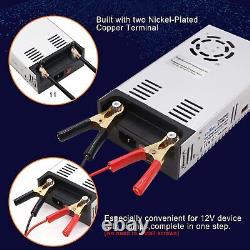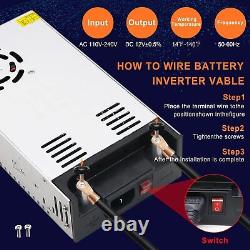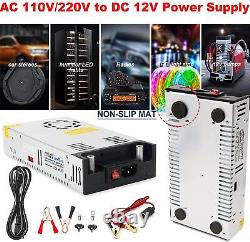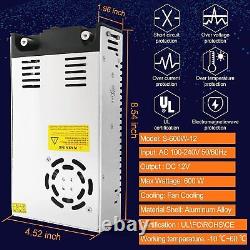 600W 50 Amp Output Power Supply. Brand New Merchandise Satisfaction 100% Guaranteed. Qychex, Power and Energy Systems, is a 501(c)(3) nonprofit agency. We are a Nationwide Distributor of high quality consumer products for Home, Car, and Off Grid Use.
Our products include: Generators; Power Inverters, High Drain lithium Batteries and Solar Energy Equipment. We also sell a variety of consumer products and accessories. Please Note: This power supply is not recommended for charging batteries. NEW VERSION AC TO DC CONVERTER? New Upgrade 12v dc power converters build with Imported Aluminum alloy shell , Built-in wire integrated design, Dual power connection methods, Very convenient for 12V devices with clamps, Eagwell's 12v 600w power supply come with UL Power Cord, 12V converter, wire lugs, metal clip and screw.
Super convenient for devices with clamps. You can clamp to the two cylindrical contacts directly. It is a patent design of switch power supply. Adjustable Power Supply is AC to DC Converter.
Input voltage Support AC 110V-120V / 220V-240V, Output Range (12V 1A-5A, 12W-60W) or (12V 10A-50A 120W-600W), voltage input will adjust automatically to SMPS Model, Output current Mainly depends on your device, such as 10A 120W, 25A 300W, 40A 480W, Max current up to 50A, Power 600W. The peak power is 50A, 600W. It does not mean 12V power supply can fit rate power 600W. For motor device, the start current will be much higher that rate power.
If use resistive equipment, such like led strips, you can use higher power, such like 40A rated LED's will also be OK. 600W Power Converters Aluminum Shell are designed with Many heat dissipation holes, Built-in Cooling fan and dust-proof net, which effectively prevent dust from entering, ensure the stable rotation of the electric fan and prevent the circuit board from burning ; moreover, Anti-skid pads are added to the bottom, which can also make the bottom better heat dissipation and work more stable, Converter Working Temperature Range : 14? SAFE & STABLE, LONG SERVICE LIFE? EAGWELL 12V Power Supply Adapter Come with Overload, over voltage protection, Leakage protection and short circuit protection function. All copper nickel-plated terminal material, which has good electrical conductivity and high conversion efficiency, corrosion resistance, aging resistant, power converter free from time and space constraints.
This 600w converter power supply, power cord and plug all have passed UL, CE, RoHS Certifications. Dial to the Correct Gear Position, Cut off the Power Before Disassembling the Connection. Perfect Choice to Power led strips, 3D Printer Power Supply, CCTV Power Supply, Camera Power Supply, Medical Power Supply.
Also Can be Used for Industrial Automation Equipment, Motor, Car Stereos, Boat, Radio, Computer Project, Humidifier, Planting, Research Rooms, Electrical Equipment, Solar Photovoltaic, LED Display, PCP Compressor and more 12V Device. AC input voltage : 110V-120V / 220V-240V. DC output voltage : 12V±0.5%. Item Dimensions : 9.06 x 4.53 x 1.97 inch. Item Weight: 2.12 Lbs.
1 x AC Power Cord. 1 x Cigarette Lighter Power Adopter. We except all major credit cards and debit cards, through the Pay Pal Check Out.
We strive to process all orders immediately and in a timely manner. Therefore, cancellations may not always be possible.
Qychex, C/O Housing 4 Now. 522 N Central Ave #25225.