DC Power Supply Variable 60V 5A Bench Power Supply 4-Digital LED 60V 60W 5Amp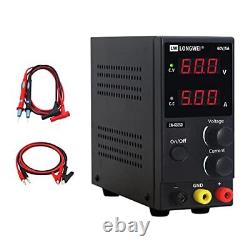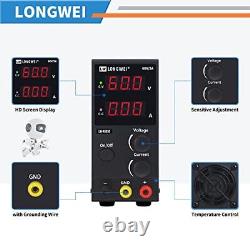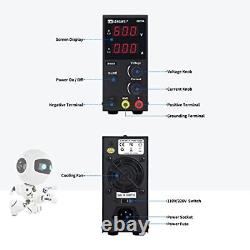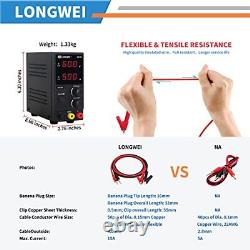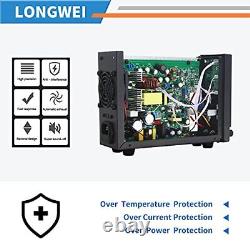 85%; Operating Ambient: -10C to + 60C/ 30%RH to 90% RH Voltage Regulation Load Regulation(10-100%) 50mV; Line Regulation(200-240VAC) 20mV; Ripple & Noise(P-P) 50mV; Current Regulation Load Regulation(10-100%) 20mA; Line Regulation(200-240VAC) 20mA; Ripple & Noise(P-P) 20mA; What You Get: Power supply host x 1 Output power cord x 1 Input power cord x 1 Test probes x2User manual x 1 Notice: Do not operate in humid environment. Do not operate in flammable and explosive environment.
Keep the product surface clean and dry. High Precision with 3-Digit and Power Display 60V 5A DC benchtop power supply is a professional power supply regulation device that has a high resolution of 0.1V and 0.01A. You can easily tune it within 0-60V and 0-5A. The backlit 3-digit LED display provides a more accurate readout for the voltage and current value, visible easily even in the low-light conditions. High Quality with Essential SafetySafety is our priority.
Grounding wire, This bench power supply 60v 5a takes the function of limited flow protection, overpower protection, over temperature protection, voltage overload protection. Greatly improving its working efficiency and lifespan.
Excellent Heat DissipationEquipped with a big fan controlled by intelligent temperature control sensor and multiple heat radiation grooves on both sides, Intelligent fan offers excellent heat dissipation effect, which reduces the noise and prolongs the life of product effectively. (When the internal power supply reaches a certain temperature, the fan will automatically turn on for heat dissipation). Compact and Various ApplicationThis one weighs less than 2kgs and measures only 2.78.66.3inches, Applies for cb radio power supply, Lab Power Supply DIY, Electroplating KitTeaching SuppliesWork Bench Electronic Projects. Aging test and other requirements thanks to complete test probes and output cable with alligator clips. What You Get & SERVICE1 x 60V 5A DC power supply, 1 x output power cord, 1 x Input power cord, 1 x test probes, 1 x User manual.