Furutech ADL Esprit Headphone Amp / DAC/ ADC + Tomanek Linear Power Supply / OVP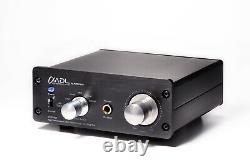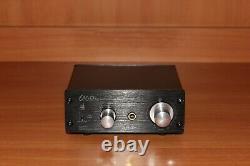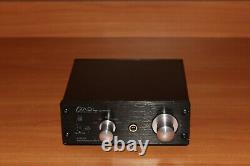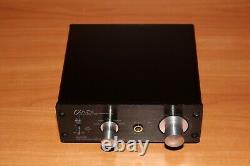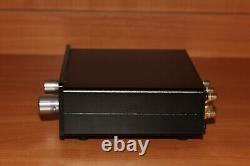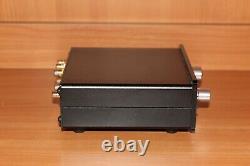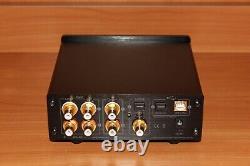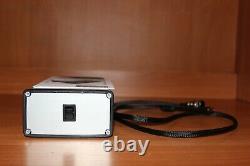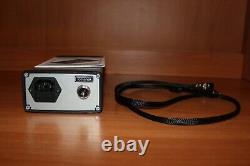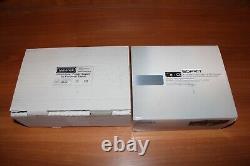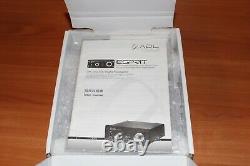 Furutech ADL (Alpha Design Labs) Esprit. For sale fully functional Digital Preamplifier / Headphone Amp / DAC/ ADC from Furutech ADL in very good condition (see photos) plus Tomanek Ultra Linear Power Supply dedicated for this model. Original packagings and everything included by manufacturers.
Zum Verkauf voll funktionsfähiger digitaler Vorverstärker / Kopfhörerverstärker / DAC / ADC von Furutech ADL in sehr gutem Zustand (siehe Fotos) plus Tomanek Ultra Linear Power Supply für dieses Modell. Originalverpackungen und alles, was von den Herstellern mitgeliefert wurde. ADL ESPRIT DAC AND DIGITAL PREAMPLIFIER - 24/192 DAC and ADC - 24/96 USB - Low Jitter Clock Recovery System.
As the great jazz composer Sun Ra says, "Space is the place, " and audio enthusiasts all over the globe know that to be true. Most of us live in tight quarters and there's little room for large, energy-inefficient components. Plus a growing number are using their computers to store and play music. But audiophiles and music lovers still want what they want, better sound and more convenience. That's why Furutech introduced the well-reviewed GT40 USB DAC/Analog Recorder last year. The GT40 was the stripped-down sports racer of the group and the Esprit is a faster, more luxurious GT model. It's a compact DAC/Preamplifier that can also record and playback from hard disk in both analog and with the Esprit, digital. It even offers a toggle switch to choose Recording Attenuation: dB: 0dB, 6 dB, or 12dB. The Esprit is designed around a high-performance 24-bit/192kHz Wolfson WM8716 DAC. It also features optical, coaxial and a pair of line-level inputs for whatever home entertainment devices you're using. The Esprit also carries both analog and optical outputs Optical output for USB source only: Optical S/PDIF output signal via USB playback only. The S/PDIF signal output will support digital surround multi-channel formats such as AC3/DTS Decoder.
Completely control an analog, digital or computer-based system with superior sound while recording vinyl or any other analog or digital source to hard disk! The exceptional headphone amplifier drives 16 to 600 ohm'phones with aplomb. The sound is vivid, captivating, palpable and unheard of in this price category. The ADL Esprit brings Furutech's signature smooth, detailed clarity to high-resolution 24-bit/96kHz files and 16-bit/44.1kHz files sound better and more satisfying! 24/192kHz Wolfson WM8716 DAC - 24/192kHz Cirrus Logic CS5361 ADC converter with Multi-bit architecture at 114dB dynamic range - 24/192kHz CIRRUS LOGIC CS8416 Digital Audio Interface Receiver with low-jitter clock recovery - 24/96kHz Tenor TE7022L Hi-Q USB Audio Streaming Controller a.
Supports Asynchronous Mode and ASIO b. Supports USB 2.0 Full Speed and USB Audio Class 1.0 c. 2 isochronous input endpoints for recording, 2 isochronous output endpoints for playback, and 1 interrupt endpoint for HID d.
Supports 32/44.1/48/96kHz sampling rates e. I2S bus separates clock and data signals for very low jitter connections f. Supports 2 input and 2 output channels with one I2S pair with independent sampling rates g. Optical output functions with USB sources only h. Output S/PDIF signals support digital surround multichannel formats like AC3 and DTS - Toggle switch chooses recording attenuation of 0, 6, or 12dB - Toggle switch chooses S/PDIF sampling rate playback at 96kHz or 192kHz a.
Reset sampling rate switch after changing by turning the Esprit off and on b. Set to 96kHz for better performance when playing sampling rates of up to 96kHz on source components like CD or DVD players c. Set to 192kHz for 192kHz source material only or there will be no audio output - Dual External power supplies a. Power supply 1: 5V DC from bus-powered USB chip and optical output only b.
Power supply 2: External DC 15V / 800mA / 12W AC/DC Switching Adaptor for high resolution audio -Headphone Amplifier: TI TPA6120A2 driving 16-to-600 ohms'phones at >120dB dynamic range -Highest Quality Parts like ELNA ROB or ELNA RFS-grade capacitors - Line In, Out and DAC OPA : Burr-Brown OPA2134 (with DIP socket) and upgradable - OP Amp (ADC): JRC NJM5532 Low-Noise Dual Operational Amplifier - No drivers are necessary with Mac computers and a single standard driver is supplied for Windows - Furutech gold-plated PTFE-insulated RCA connectors - Best quality aluminum chassis and beautifully-machined and operating volume control - Inputs: LINE1 and 2, OPTICAL and COAXIAL. USB/Analog Playback/Multimedia Recording - Connectivity: USB-B Interface, analog input/output on RCA jacks, optical Toslink input and coaxial input RCA connectors, output Toslink connector (USB output only) - USB Playback Resolution 24-bit/96kHz (Max) - USB Recording Resolution: 16-to-24 bits, Sampling Rate: 32/44.1/48/96kHz - Coaxial and Optical Playback Resolution: 24-bit/192KHz (Max) - Frequency response: 20Hz 20kHz (+/-0.5 dB) - S/N ratio: -95dB (A-wtd) / Line Output - Max. Line Output Level: 7.5 VRMS THD. (EU only + Iceland / Norway / Liechtenstein). DPD / GLS / UPS (Express) courier services.
Czech Republic / Slovakia : 15 EUR - Austria / Belgium / Holland / Denmark / Estonia / Finland / France / Greece / Spain / Ireland / Latvia / Lithuania / Luxembourg / Monaco / Romania / Slovenia / Sweden / Hungary / UK / Italy : 20 EUR - Bulgaria / Portugal / Croatia / Liechtenstein : 30 EUR. National Post (Economy / Standard). 1 National Post (Economy / Standard).
2 UPS / EMS (Express) courier services. The item "Furutech ADL Esprit Headphone Amp / DAC/ ADC + Tomanek Linear Power Supply / OVP" is in sale since Saturday, February 23, 2019. This item is in the category "TV, Video & Audio\Heim-Audio & HiFi\Verstärker & Vorverstärker".
The seller is "sielusek" and is located in Skoczów. This item can be shipped worldwide.
Marke: Furutech ADL
Modell: Espirit
Funktionen: DAC
Produktart: Integrierter Verstärker