Vintage Langevin 201b Power Supply, 111 Preamp, 102 Program Amp, Mounting Frame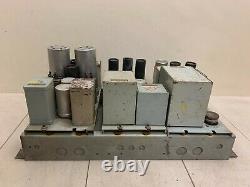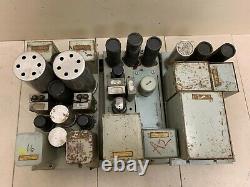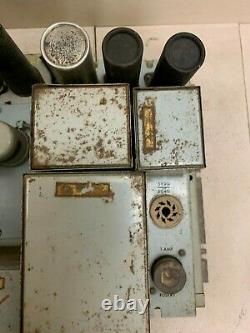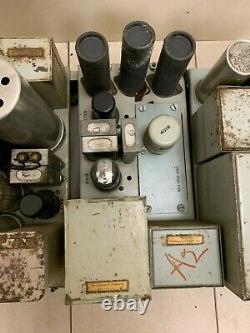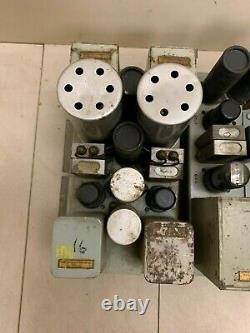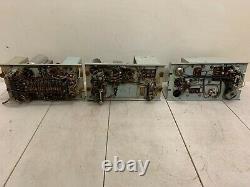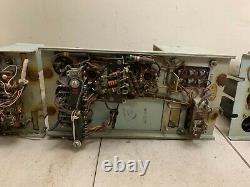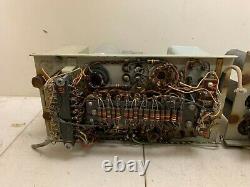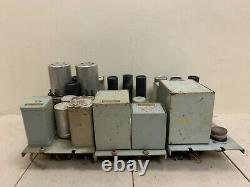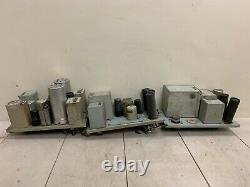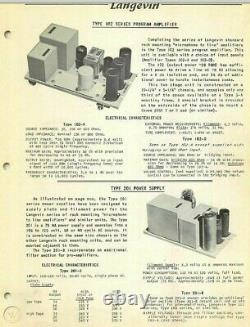 VINTAGE LANGEVIN 201B POWER SUPPLY, 111 PREAMP, 102 PROGRAM AMP, MOUNTING FRAME. Very hard to find and especially together in a rack. These are out of a Langevin Console. Some of the electronic part/s may continue for another 50 years without need of replacement and some electronic part/s may fail a few days after you start using the item. Out of a large collection of Vintage Tube, Solid State and rare electronics. Please visit our store as we get vintage electronics of tube, test, solid state, hifi, audio, etc Many great and rare items as well. TYPE II I SERIES PRE-AMPLIFIER AMD/OR BOOSTER AMPLIFIER.
The Langevin Type III Series Dual Pre-Amplifier or Booster Amplifier is constructed so that two separate amplifiers are provided on the same chassis. Each Amplifier is an individual, two stage unit with it's own input and output transformer and tube complement. This unit can be used as two pre-amplifiers, or two booster amplifiers. And if studio equipment design requires , on side of the Type 111 can be employed as a pre-amplifier and the other as a booster amplifier. Both of the two stage amplifiers on the Type 111 chassis are fixed, medium gain units.
The entire Chassis occupies only 1/3 of the space provided on a Langevin 3-A Rack Mounting Frame. SOURCE IMPEDANCE: 30, 250 or 600 Ohms. LOAD IMPEDANCE: Nominal 600 Ohms. OUTPUT POWER: +16 DBM approximately. 038 Watt with less than 1 % Total RMS Harmonic distortion at 400 cycles single Frequency. OUTPUT NOISE: unweighted , equivalent to an input signal of -124 DBM (single Frequency Tone) over bandwidth of 20,000 cycles. FREOUENCY CHARACTERISTIC: ±1 db over the range 30 to 15,000 cycles. EXTERNAL POWER REQUIREMENTS: Filament: 6. 2 amperes; Plat e : 275 volts, 16 MA. TUBE COMPLEMENT: 2- 1620's; 2- 6SJ7' S. TYPE 102 SERIES PROGRAM AMPLIFIER. Completing the series of Langevin standard rack mount in g "microphone to line" amplifiers is the Type 102 series program amplifier. This unit is available with a choice of input panels (Amplifier Types 102-A and 102-D). The 102 (output power +28 OBM) has sufficient power to drive a line at +a VU allowing for a 6db isolation pad, and 14 db of additional power to handle instantaneous peaks.
This two stage unit is constructed on a 10-1/4" x 5-1/4" chassis, and occupies only one third of the space available on a Type 3-A mounting frame. A special bracket is provided on the underside of the chassis to mount a Daven ;1950 T o r H pad (or similar). As illustrated on page one, the Type 201 Series power Supplies have been designed to supply plate and filament power for the Langevin Series Rack Mounting "microphone to line amplifiers" and similar units. The Type 201 is a 75 MA power supply and operates from a 105 to 125 volt, 50 or 60 cycle AC source.
It is constructed on the same size chassis as the other Langevin Rack Mounting Units. And can be mounted adjacent to them. The 201-B Incorporates and additional filter section for Pre-Amplifiers. INPUT: 105-125 volts , 50-60 cycle, single phase AC. Plate Supply MA with with. Output 5Y3GT or 5U4G Tube. Low taps 75 220V 245V. High taps 75 260V 280V. Type 201-B same as Type 201-A except provides an additional filter section (Type 201-B retard coil a nd 40 mfd condens r) for pre-amplifiers, Langevin Type 111 series , Type 106 series , or similar.
The 3-A Frame is constructed of 16 gauge zinc plated, bonderized steel, and occupies only 10-1 / 2 of standard rack space. The item "VINTAGE LANGEVIN 201B POWER SUPPLY, 111 PREAMP, 102 PROGRAM AMP, MOUNTING FRAME" is in sale since Thursday, November 4, 2021. This item is in the category "Musical Instruments & Gear\Pro Audio Equipment\Vintage Pro Audio Equipment". The seller is "middlemansalesandauctions" and is located in Ellenville, New York.
This item can be shipped worldwide.
Type: 201B, 111
Brand: LANGEVIN