Mooer MMP 9Volt 2amp Multi power supply block/Brick, inc mains wall plug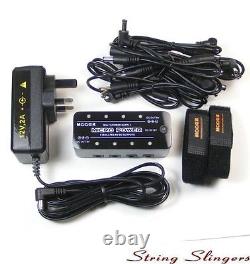 Or browse on the left. A VAT Invoice is available upon request.
A Brand new Mooer Power Supply for Effects Pedal. 8-way Multi power supply inc. Wall Plug Power Supply \ AC Adapter. Input : 240v AC 50Hz Output 8x 9Volts 300Ma per output.
2.1mm Socket with negative tip (Centre). Provides stable 9V DC power supply with high performance, each output maximum current of 300 mA, can meet most of the pedal use requirements. Eight independent output short circuit protection design, when one circuit output failure, other output lines still can work independently. 8 LED lights indicating output status in darkness, its unique dull - polished feature can also protect your eyes from spotlights on stage. Very small and exquisite, full metal shell.
The 12V power adapter 12V 2A 460mm lines x4 (connect the pedal) 610mm lines x4 (connect the pedal) 200mm Polar conversion line (The out put power from the negative is changed to outside to inside is outside negative) Velcro straps x2. I'm a guitarist with 20+ years experience. I only sell products that I know about and are of good quality and are essential for your enjoyment or profession.
Take a look at my Feedback Page. To see previous customers opinions.